I put of the third edition of NBA Rookie Fantasy Rankings, so be sure to check that out right here.
Tristan Thompson - He's not really a pickup, but he's playing a little better. Thompson had 15 points, 13 boards, one steal and one block.
Courtney Lee - I'm buying. He looks good with his new team and I think he could stick in a 28-minutes-per-game role.
Iman Shumpert - He looks like he'll be locked in as te starter with big minutes.
Dion Waiters - His line of 17 points, two boards, four assists, two steals and one block served as one of his best lines.
Amare Stoudemire - For the first time in a while, STAT looks healthy. He had 17 points, four boards and two dimes in 22 minutes.
Tim Hardaway Jr. - It would appear Timmy is in line for minutes. J.R. Smith packed his bag and he might be missing some time. THJ had 12 points in 27 minutes.
Jordan Hill - There really seems like there's no way Pau Gasol is playing on Wednesday. I like Hill more than Sacre.
Jeremy Lamb - He's not getting it going and has been a letdown to date. Lamb finished with nine points, seven boards and no treys.
Michael Kidd-Gilchrist - Hey let's get a shot chart in here.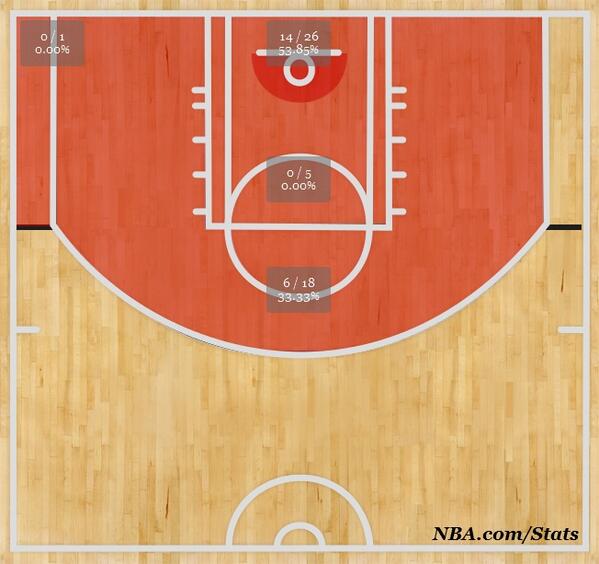 This is MKG's shot chart in his nine previous games before Tuesday. Yikes.
Derrick Williams - He picked up some garbage time, so you can ignore him.
Jimmer Fredette - It would appear the Kings are showcasing him a little.