These U.S. Olympians will be coming home from Tokyo with an extra souvenir – a gold Olympic medal.
Watch all the gold medal performances here.
See other top photos from the Tokyo Olympics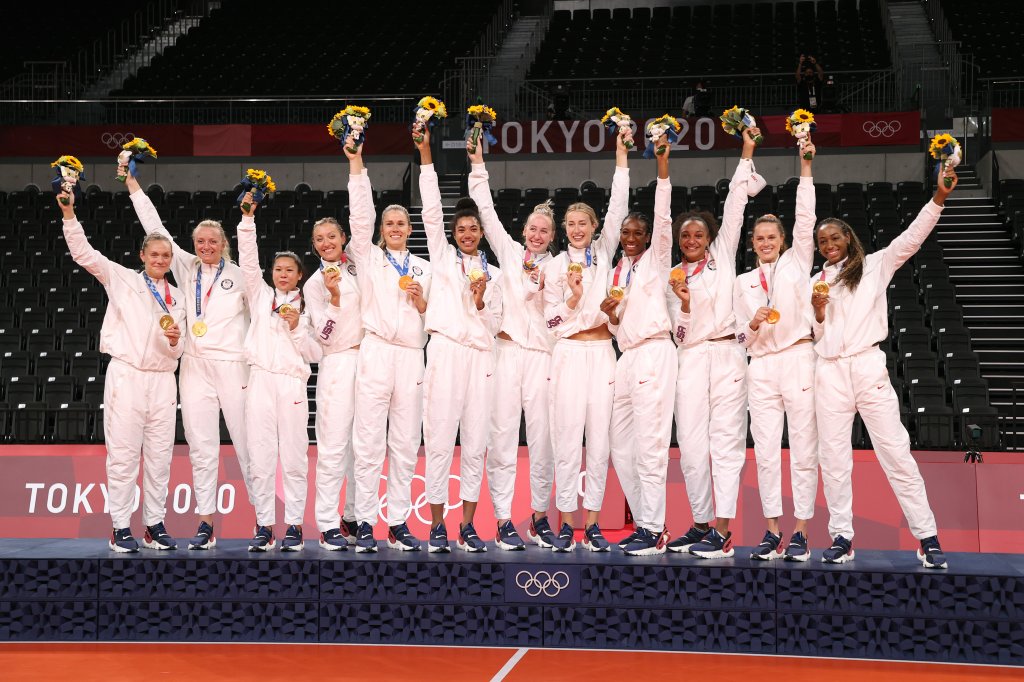 Team USA
– Women's VolleyballA dominant performance in the final saw Team USA Women's Volleyball beat Brazil 3-0 to win the gold medal. The gold is Team USA's first-ever in the event.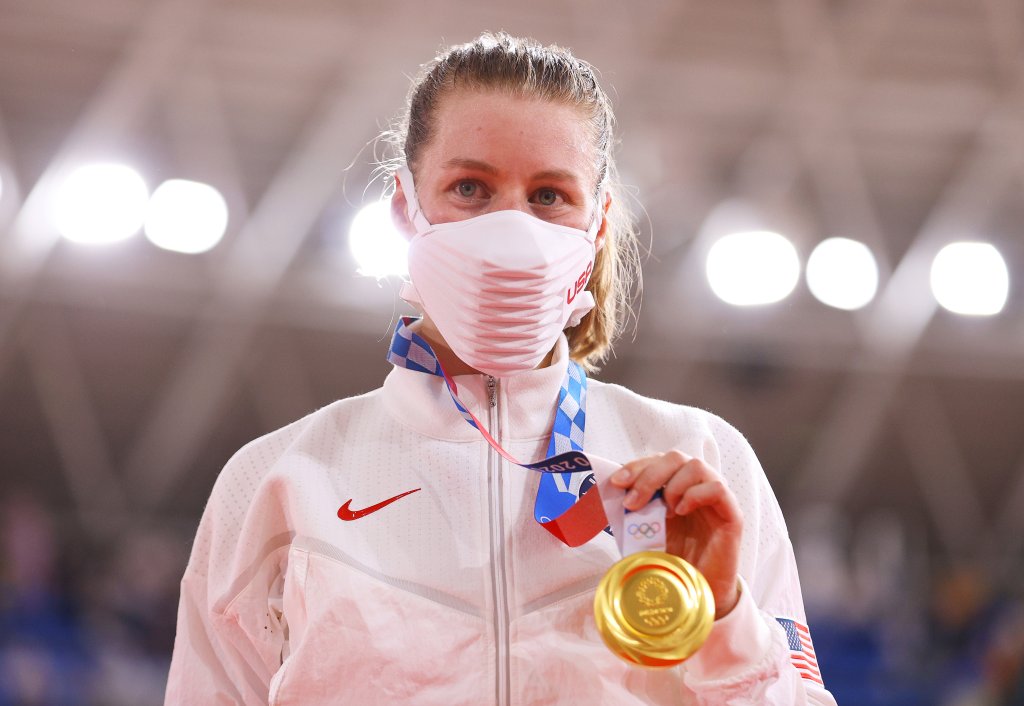 Jennifer Valente
– Women's Cycling OmniumJennifer Valente won gold in the Women's Cycling Omnium, her second medal of the Tokyo Olympics. Valente also won bronze Tuesday in Team Pursuit. Valente is the first-ever U.S. woman to win a track cycling title at the Olympics.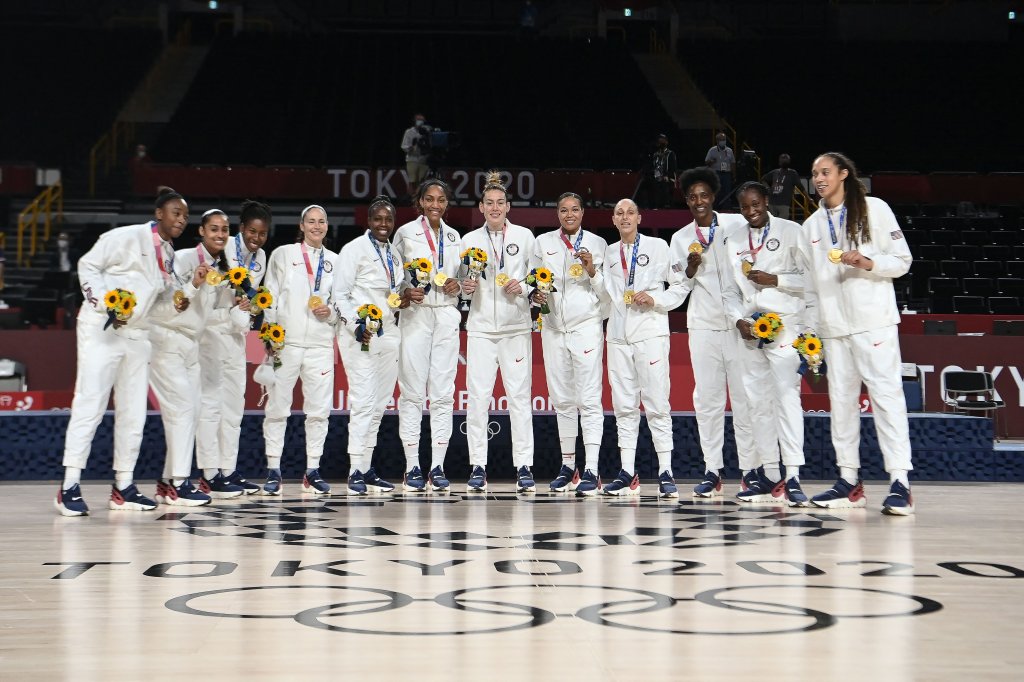 Team USA
– Women's BasketballThe United States beat Japan, 90-75, in the gold medal Women's Basketball game at the Tokyo Olympics, making it the seventh straight gold medal for Team USA in the event.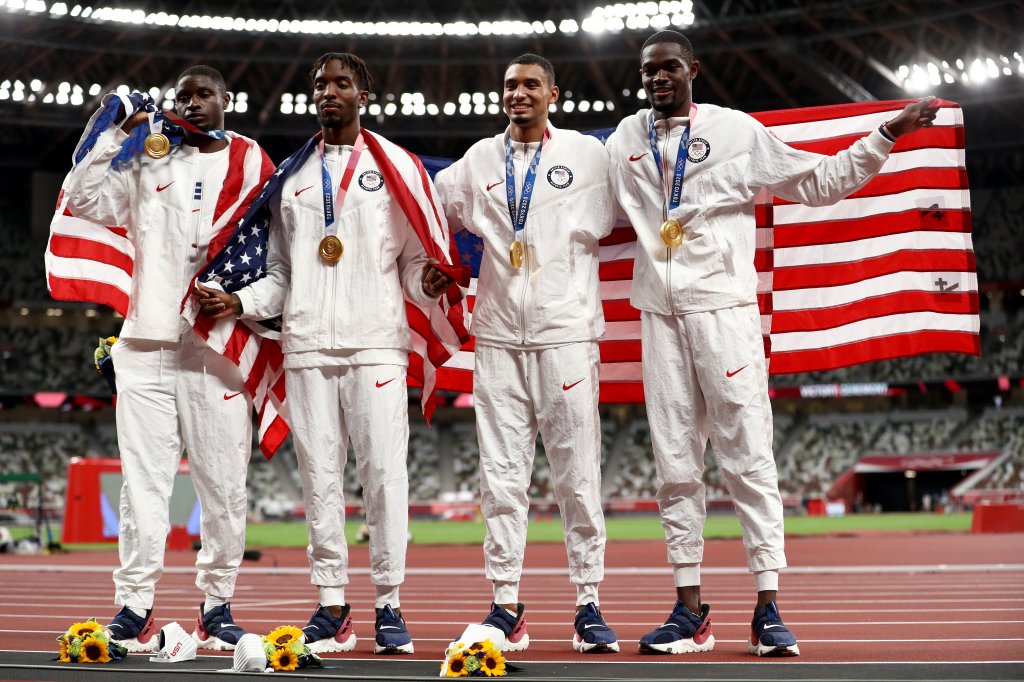 Team USA
– Men's 4×400-Meter RelayTeam USA redeemed themselves at the last hour with their first gold during the 4×400-meter men's relay. Michael Cherry, Michael Norman, Bryce Deadmon and Rai Benjamin held off Botswana to win gold in the final track event of Tokyo, days after the men's 4×100-meter team faced criticism for their failure to qualify.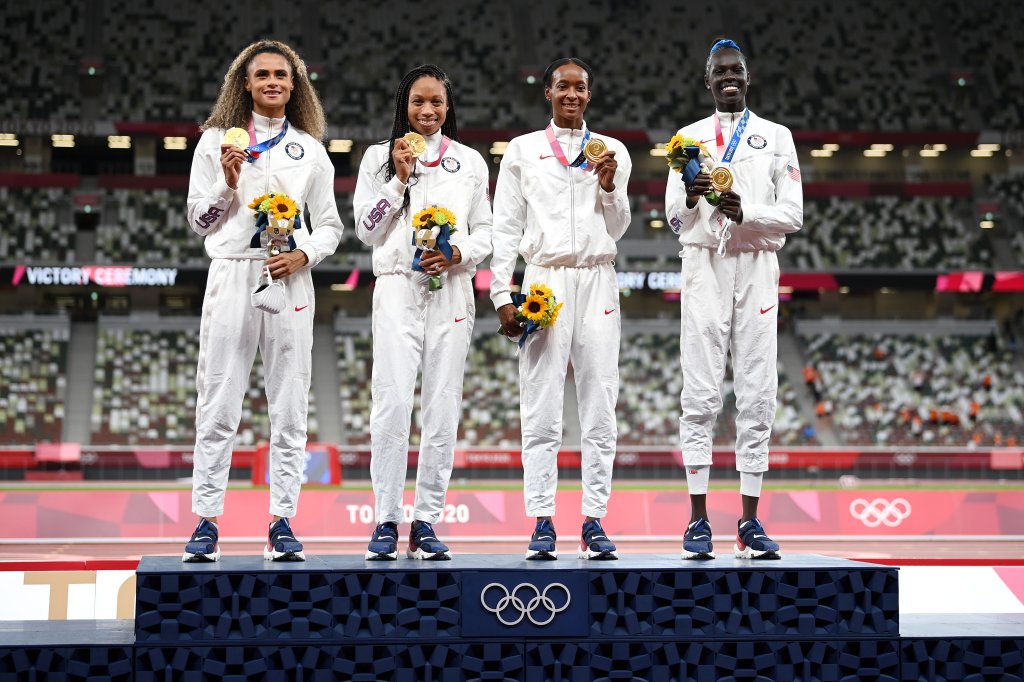 Team USA
– Women's 4×400-Meter RelayAllyson Felix ended her Olympic career on the highest note possible with her team's gold medal win on the 4×400-meter women's relay – most Olympic medals of any American in track and field history. She ran the second leg of the relay, alongside Sydney McLaughlin, Dalilah Muhammad and Athing Mu. All four athletes medaled in gold or silver in individual Olympic events before competing in the relay.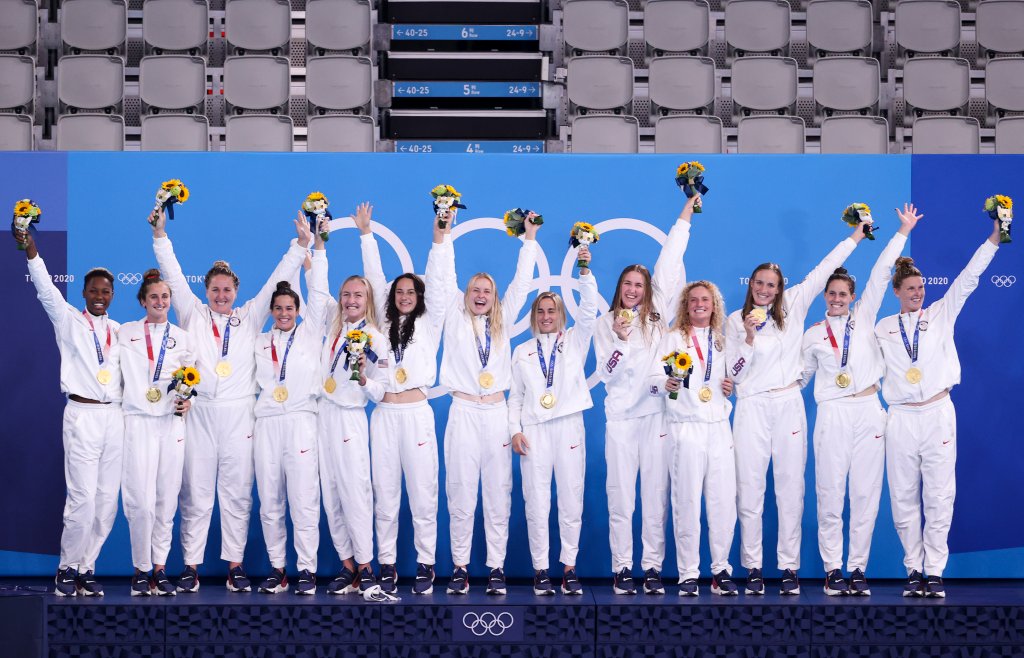 Team USA
– Women's Water PoloTeam USA
won their third straight gold
in the Olympics with their 14-5 victory over Spain. Eleven of the 13 players are from California.
Nelly Korda
– Women's Individual GolfAmerican golfer Nelly Korda won the women's golf tournament, finishing at -17. It's the first U.S. medal in women's golf since 1900.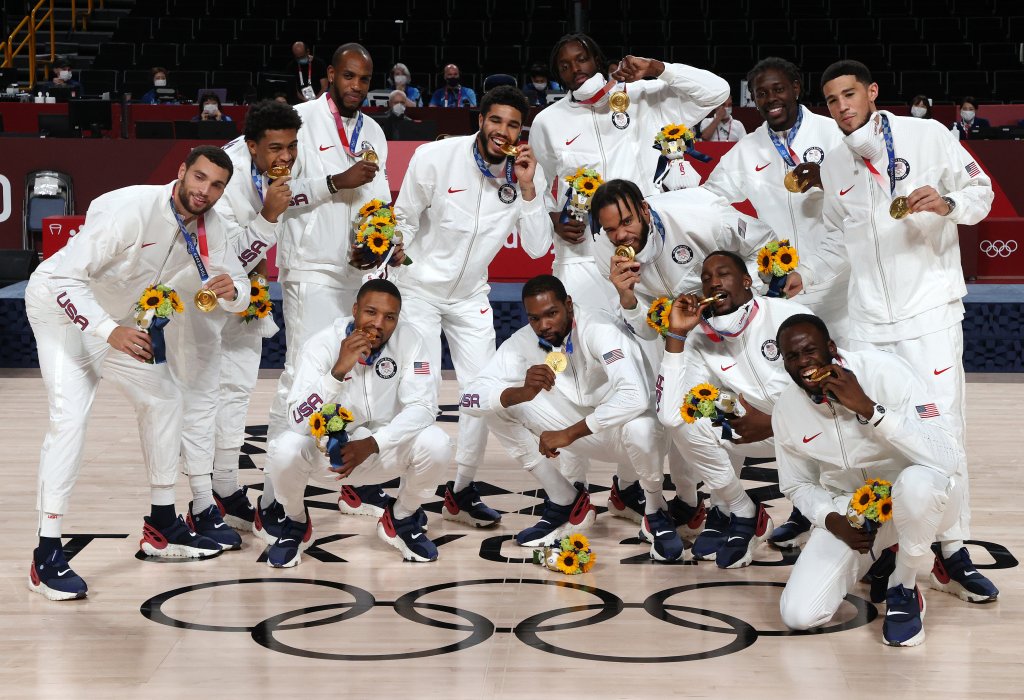 Team USA
– Men's BasketballThe U.S. men's basketball team beat France, winning the gold medal game at the Tokyo Olympics 87-82. The triumph marks Team USA's 16th gold medal in the event.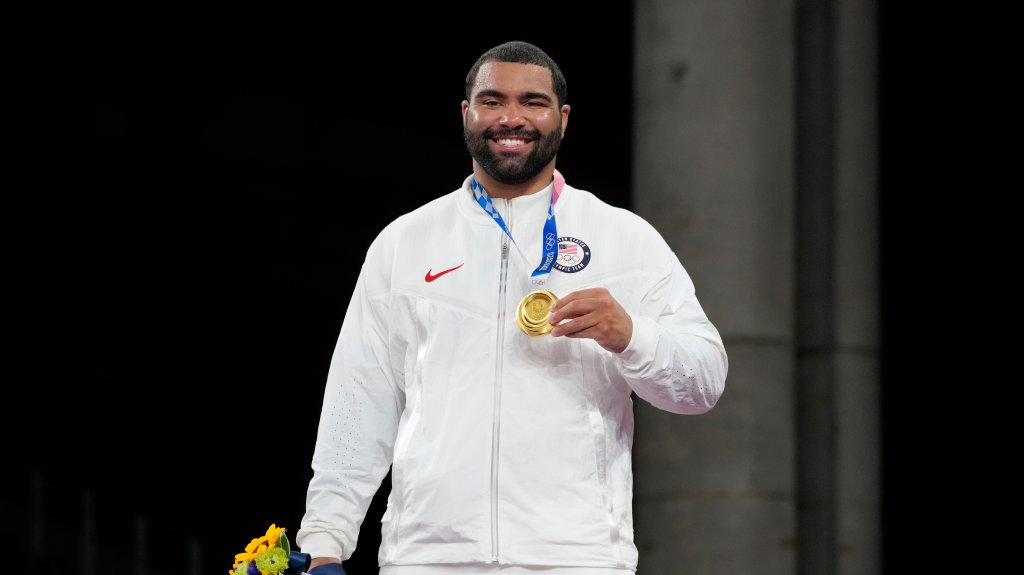 Gable Steveson
– Men's 125kg Freestyle Wrestling Steveson snagged gold out of the men's 125kg wrestling match during the very last seconds of his bout with three-time world champion Geno Petriashvili of Georgia.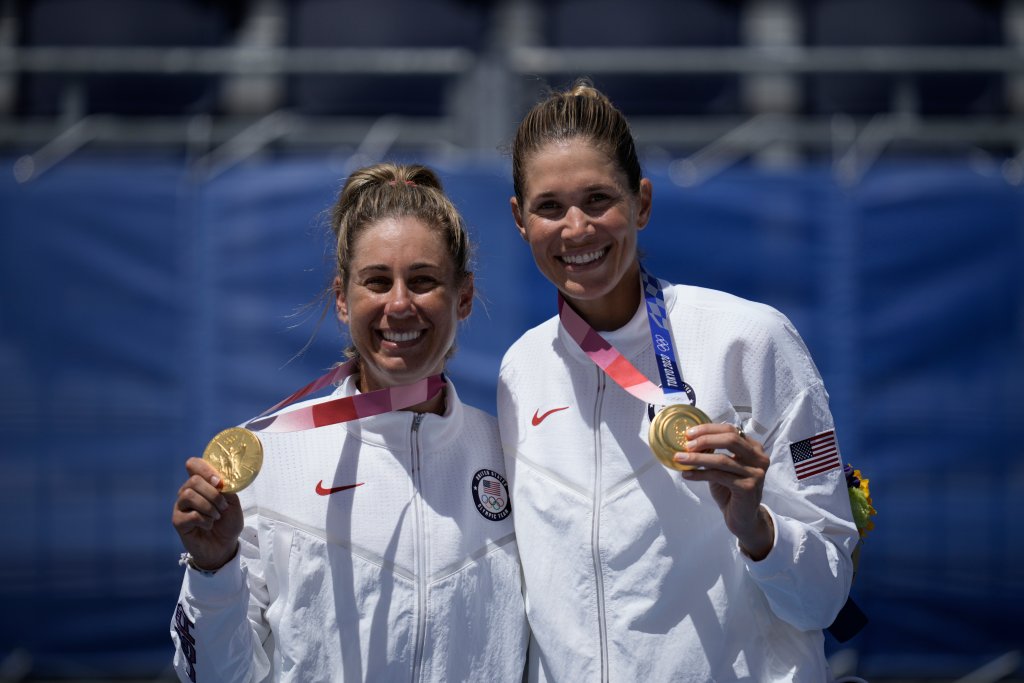 Team USA
– Women's Beach VolleyballApril Ross, left, of the United States, and teammate Alix Klineman, display their gold medals after winning a women's beach volleyball Gold Medal match against Australia at the 2020 Summer Olympics, Friday, Aug. 6, 2021, in Tokyo, Japan.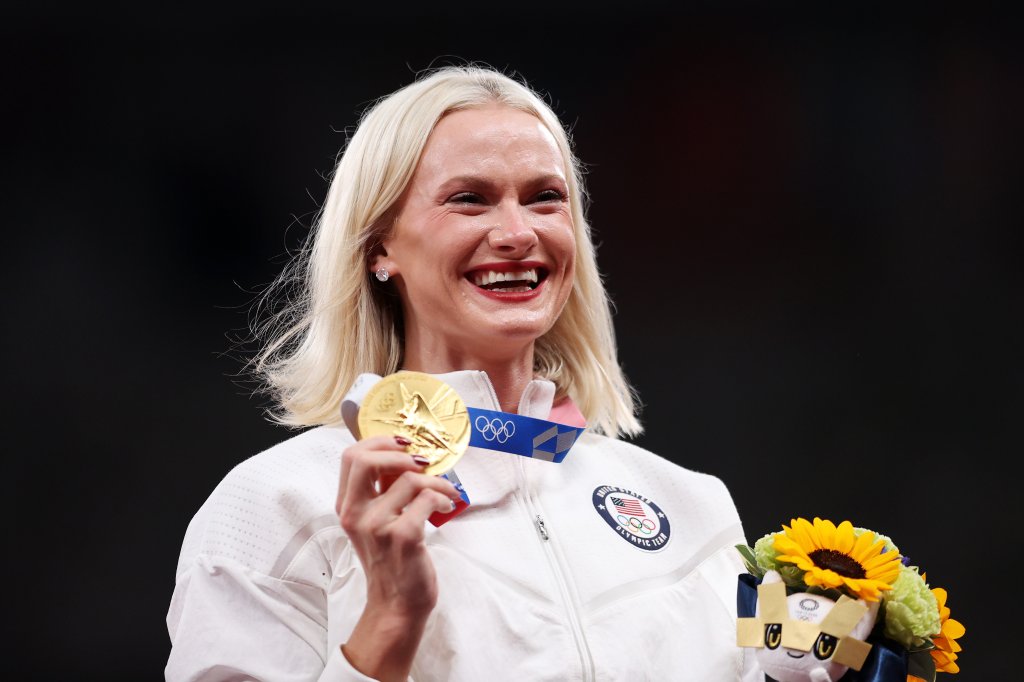 Katie Nageotte
– Women's Pole VaultNageotte overcame a slow start in women's pole vault, missing two attempts to clear 4.50 meters before she made the only successful attempt at 4.90 meters. She became the third American woman to win gold at the event.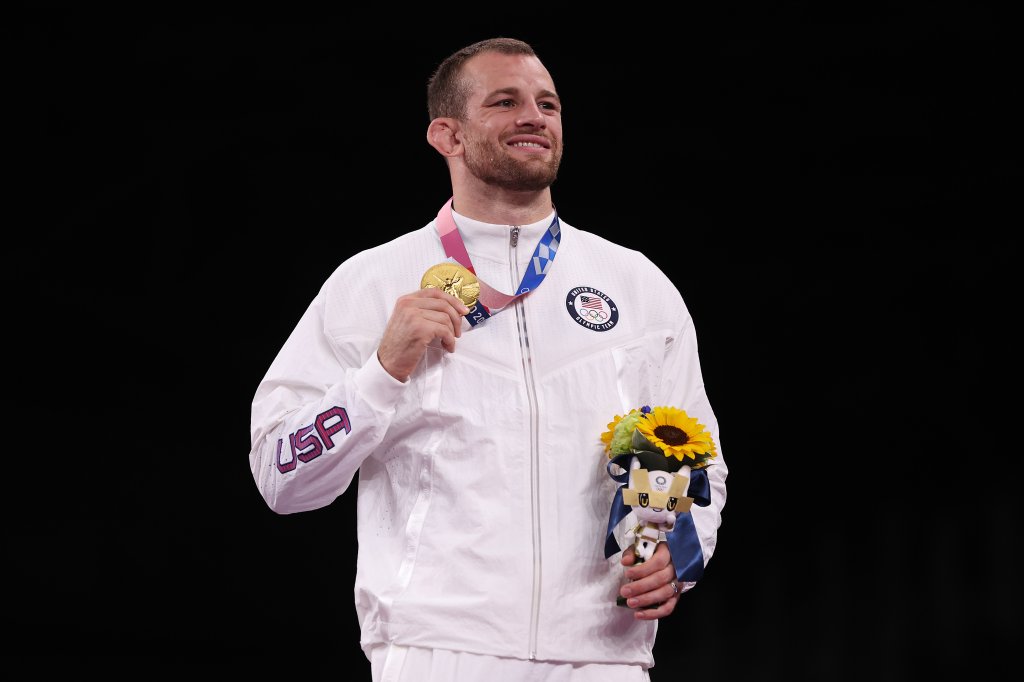 David Morris Taylor III
– Men's Freestyle 86kg WrestlingTaylor won gold against longtime rival Hassan Yazdanicharati of Iran, beating him within the last 21 seconds to score his Olympic gold.
Ryan Crouser
– Shot PutCrouser, the 2016 Rio shot put champion, successfully defended his title in Tokyo while simultaneously breaking his own Olympic record in the process. He dedicated his Tokyo gold in a note to his grandfather, who passed away the week before the Olympics: "Grandpa. We did it. 2020 Olympic champions."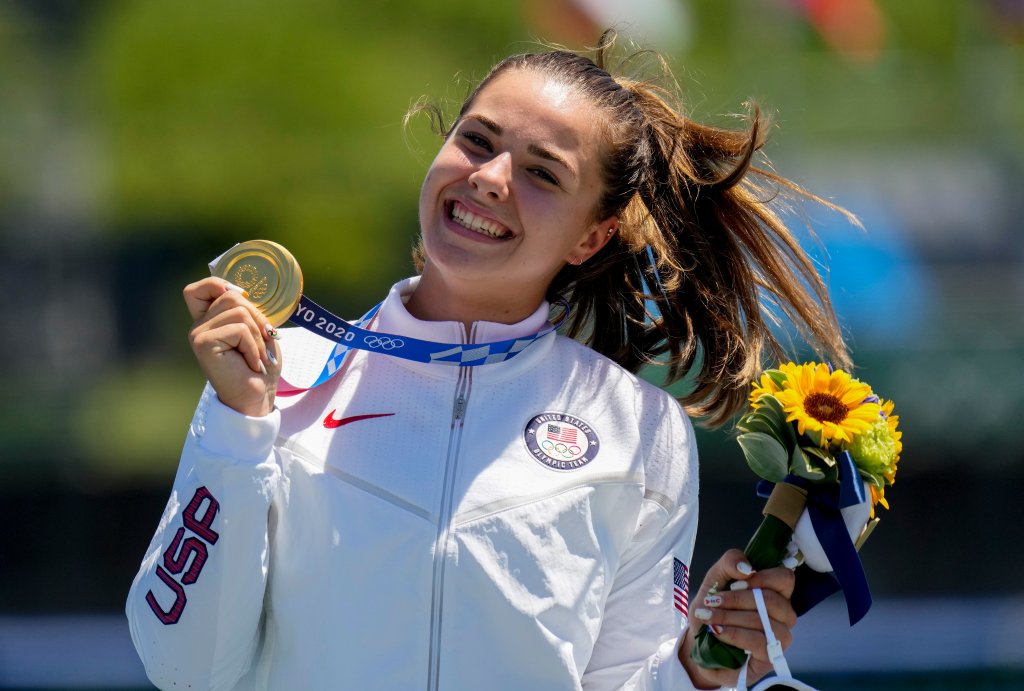 Nevin Harrison
– Women's 200-Meter Canoe Single Harrison, 19, won gold for the inaugural event, finishing her sprint in 45.932 seconds. She also set an Olympic record at 44.938 seconds during a heat.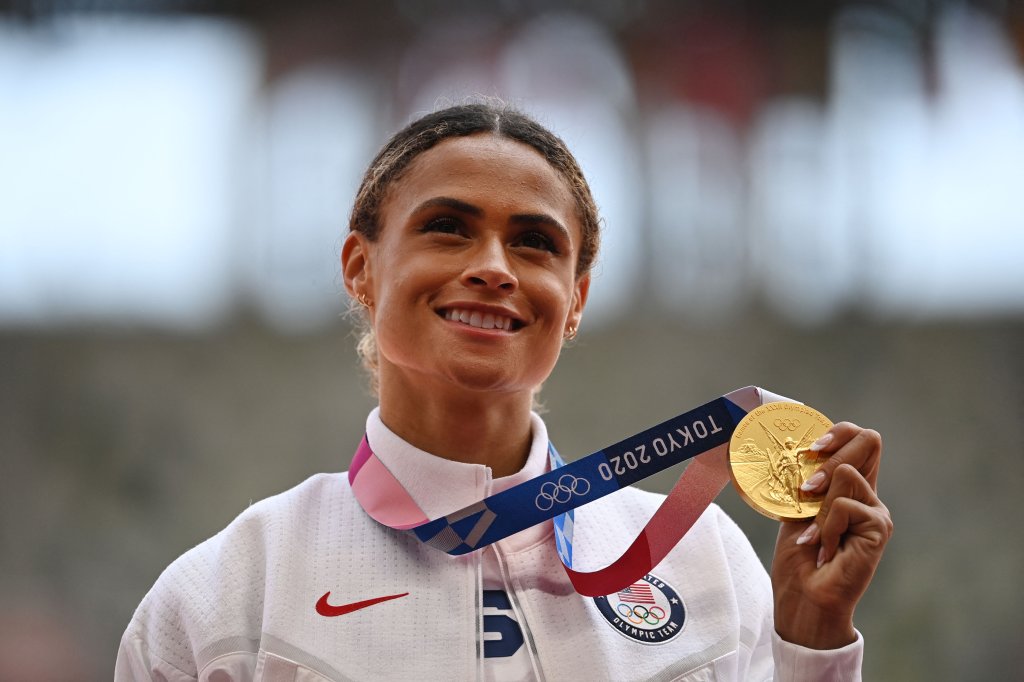 Sydney McLaughlin
– Women's 400-Meter HurdlesMcLaughlin beat her previous world record, as well as former gold medalist and Team USA's Delilah Muhammad, with her gold medal performance in the 400-meter hurdle.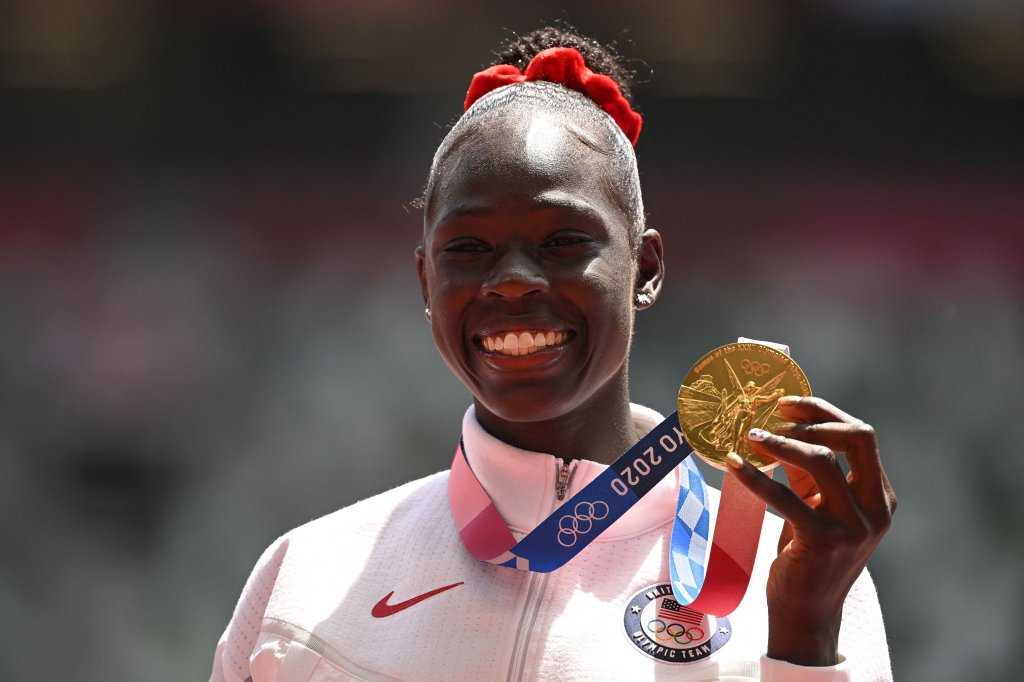 Athing Mu
– Women's 800-MetersMu ended what had been the longest active American title drought in Olympic women's track events with her 2021 gold in the Women's 800-meters.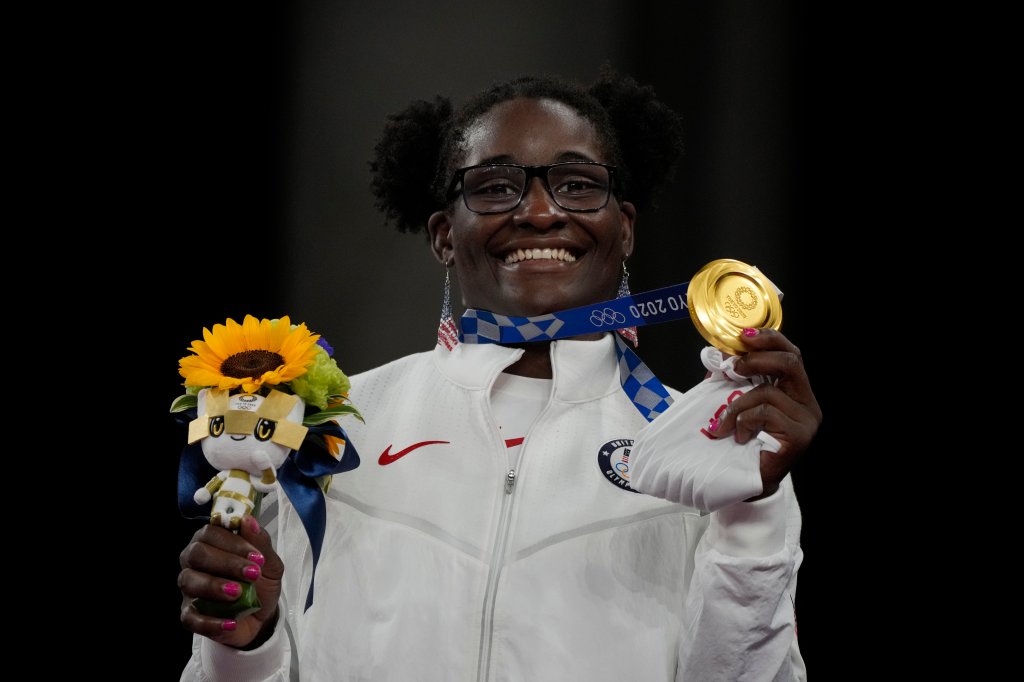 Tamyra Mensah-Stock
– Women's 68kg Freestyle WrestlingGold medalist Tamyra Mensah-Stock celebrates on the podium during the medal ceremony for the women's 68kg Freestyle wrestling.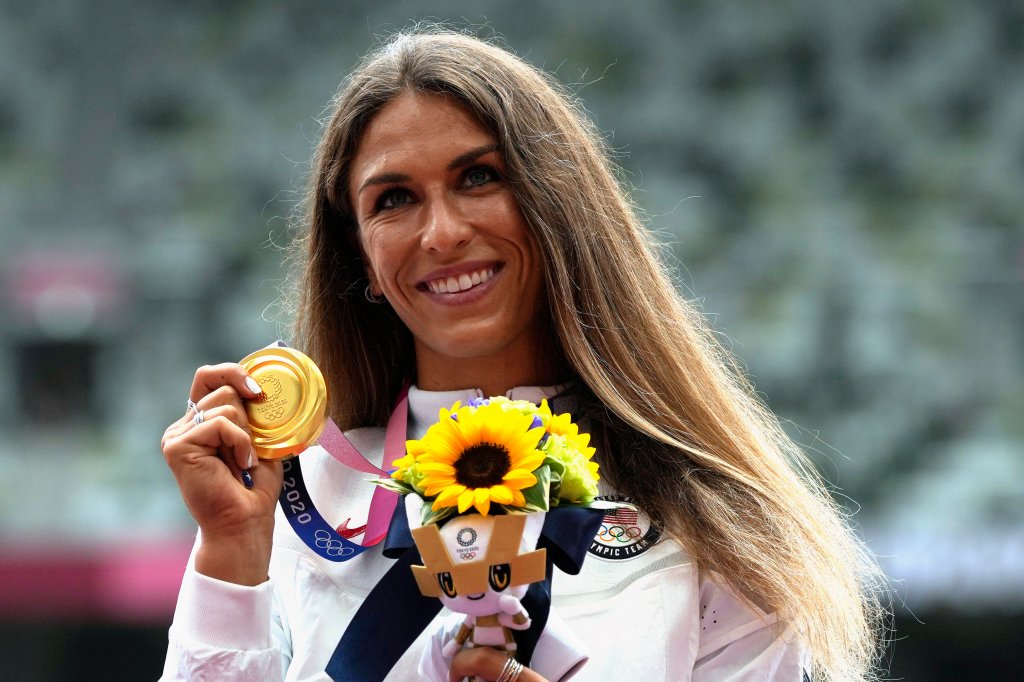 Valarie Allman
– Women's DiscusAllman is the first American woman to medal in the event since Stephanie Brown-Trafton won gold at the 2008 Beijing Olympics.
Jade Carey
– Women's Floor GymnasticsJade Carey won Team USA's second gold medal in gymnastics following Sunisa Lee's gold in the gymnastics all-around, after Simone Biles stepped down on the team and individual events to focus on her health.
Carey's coach is also her father, Brian Carey
.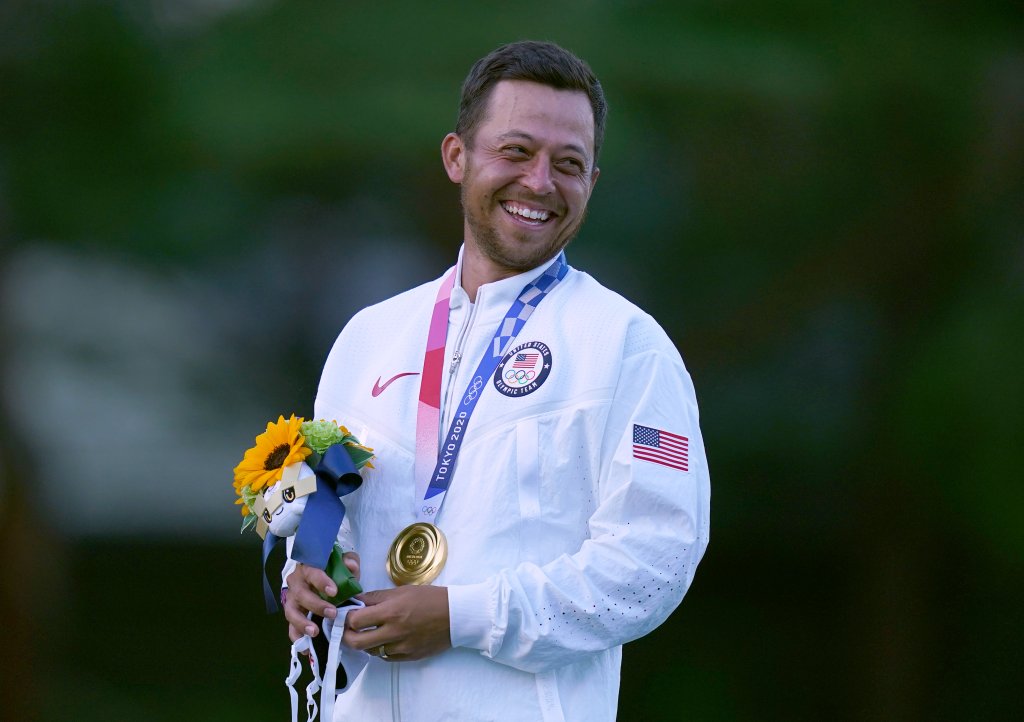 Xander Schauffele
– Men's Golf The 27-year-old Schauffele beat out Japan's Hideki Matsuyama for gold in men's golf, Aug. 1, 2021.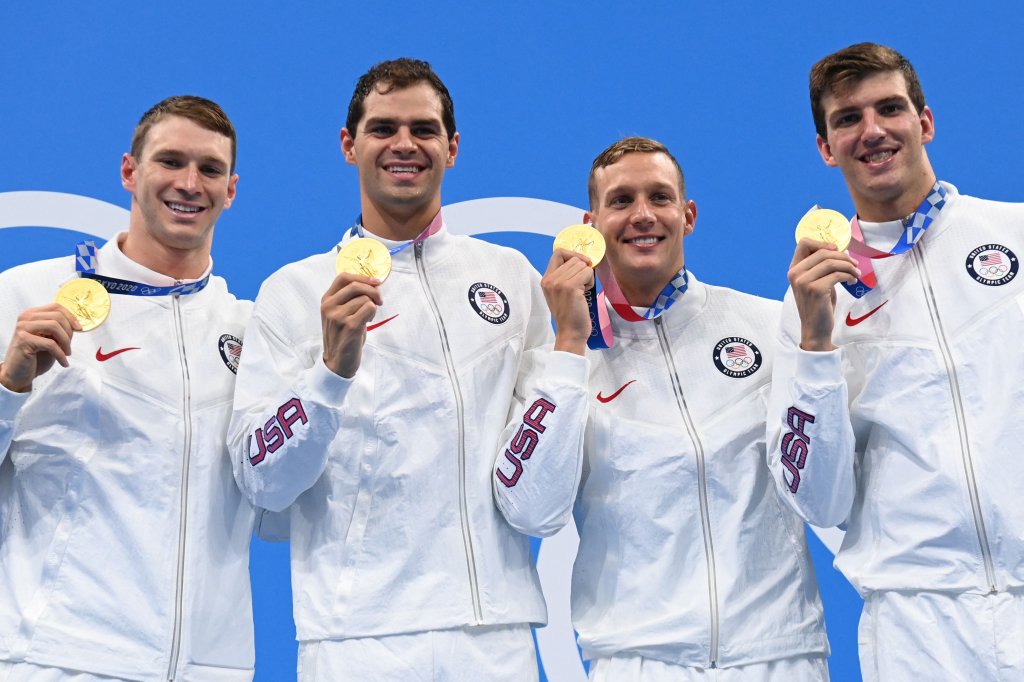 Team USA
– Men's 4×100-Meter Medley RelayTeam USA won a gold medal in the men's 4x100m medley relay, breaking the world record thanks to Caeleb Dressel's monumental butterfly leg.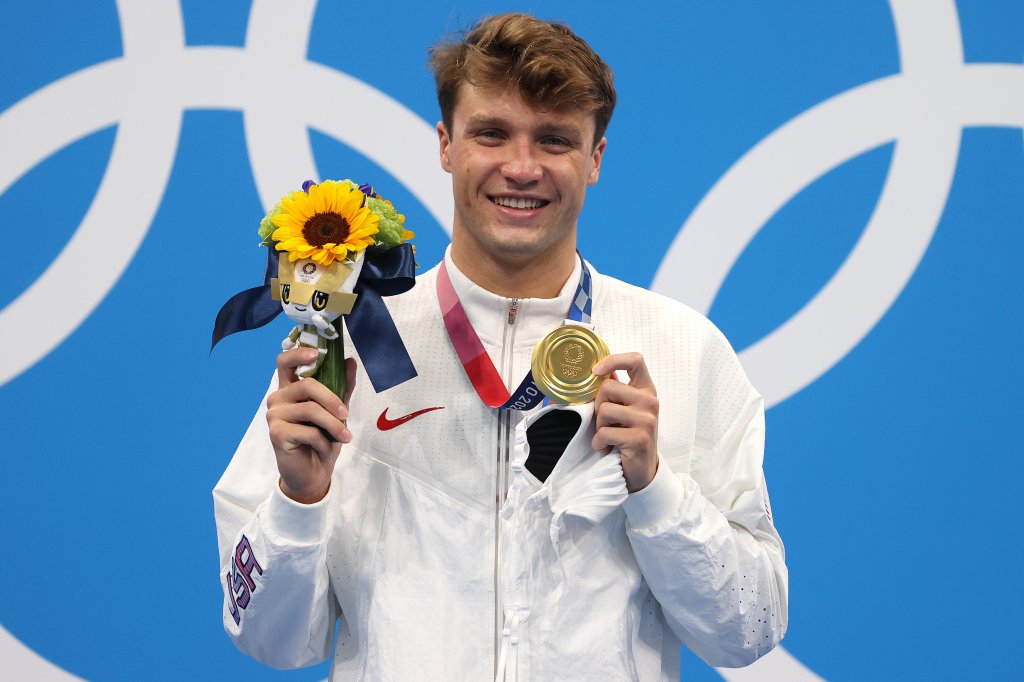 Robert "Bobby" Finke
– Men's 1500m Freestyle Bobby Finke charged in the final length of the men's 1500m freestyle to win gold. Finke is the first American to win gold in the event since Michael O'Brien in 1984.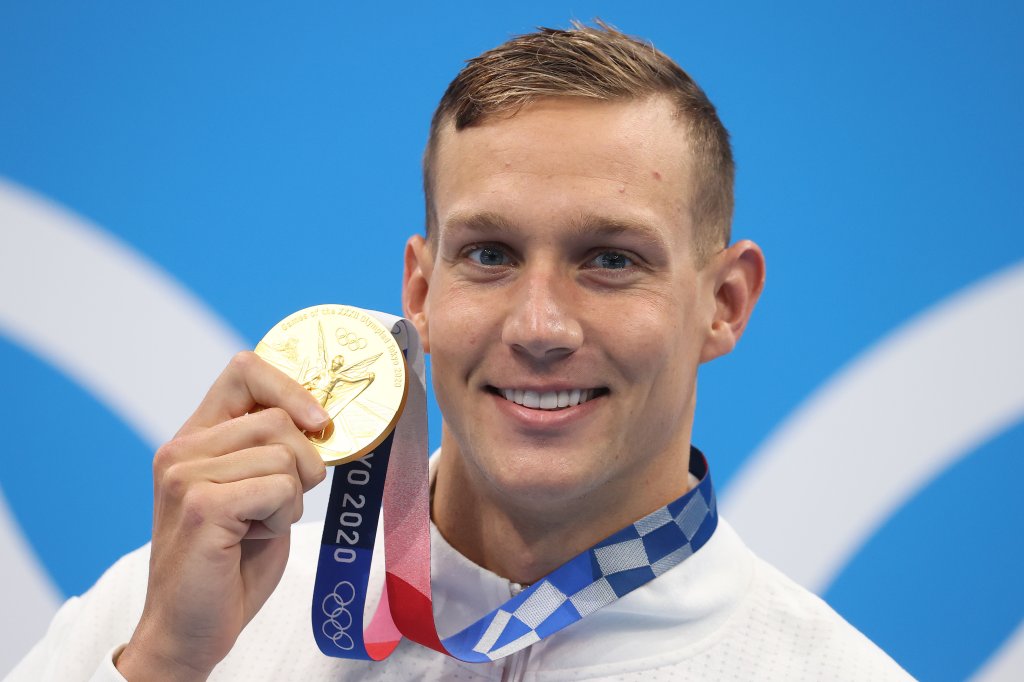 Caeleb Dressel
– Men's 50-Meter FreestyleOne day after winning gold and setting a world record in the men's 100-meter butterfly, Caeleb Dressel did the same for the 50-meter freestyle.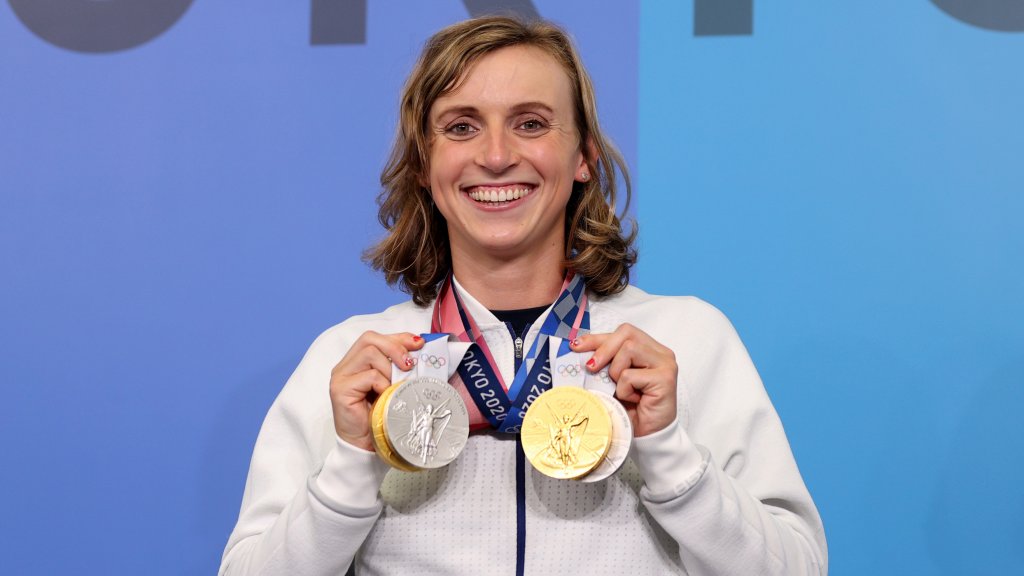 Katie Ledecky
– Women's 800-Meter FreestyleKatie Ledecky grabbed her second gold medal of the Tokyo Olympics and sixth individual gold overall, the most of any female swimmer.
Caeleb Dressel
– Men's 100m ButterflyCaeleb Dressel broke his own world record to win the gold medal for men's 100-meter butterfly.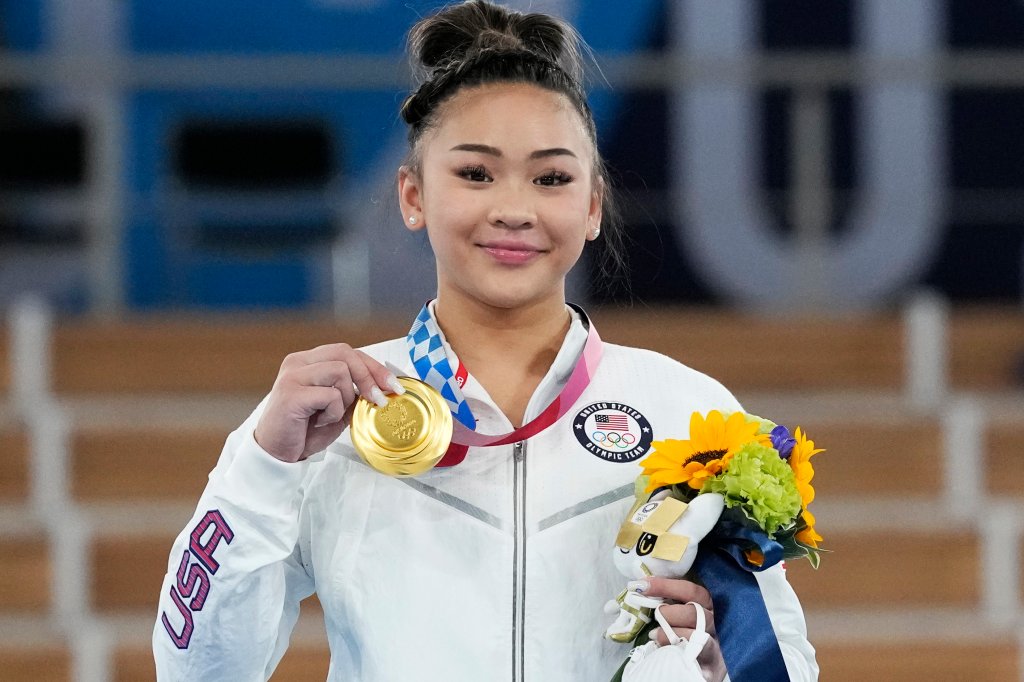 Sunisa Lee
– Artistic Gymnastics Women's All-AroundSunisa Lee delivered a dominant floor routine, scoring 13.700 and winning gold in the women's all-around, making Tokyo the fifth straight Olympic Games that an American woman has won the gold.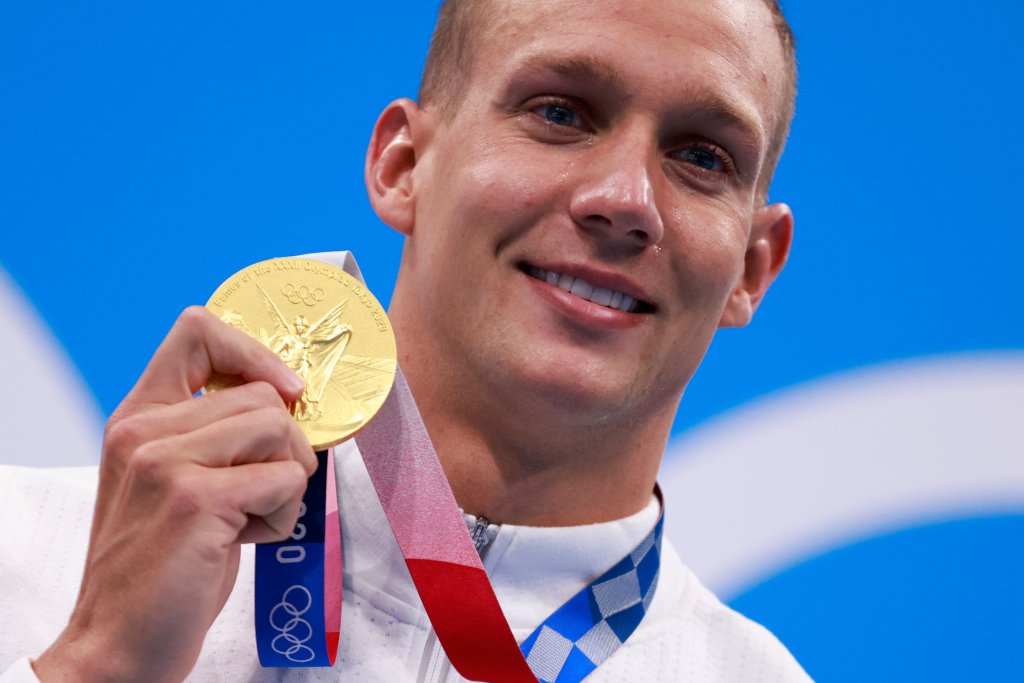 Caeleb Dressel
– 100m Freestyle Caeleb Dressel delivered a monumental, Olympic record effort in the men's 100m freestyle for his first individual gold medal.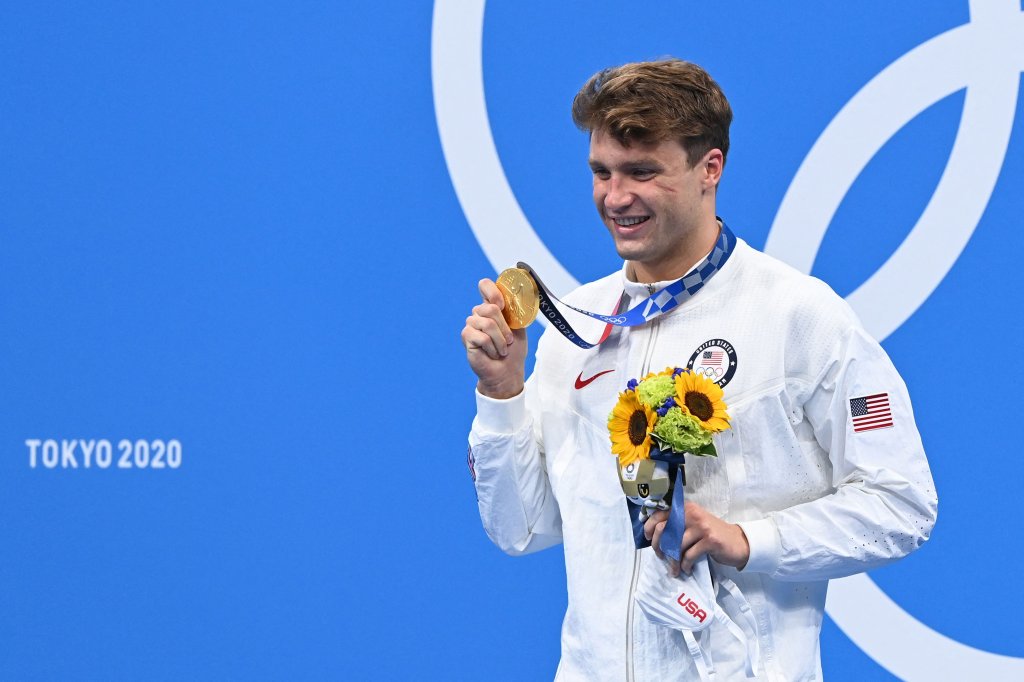 Robert Finke
– Men's 800m Freestyle Robert "Bobby" Finke surprised the field in Tokyo by winning gold in the first-ever men's 800m Olympic final.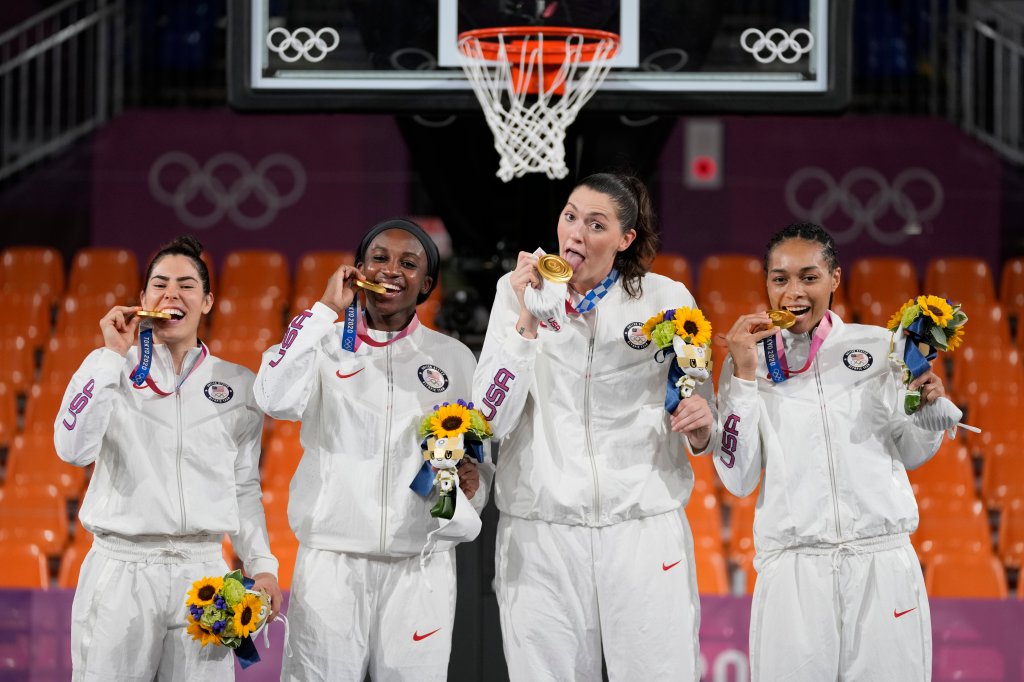 Women's 3×3
BasketballKelsey Plum, Jacquelyn Young, Stefanie Dolson and Allisha Gray became the first Olympians to win a gold medal in the women's 3×3 basketball category on behalf of the United States.
Katie Ledecky
– Women's 1500m Freestyle Katie Ledecky became the Olympic's first-ever champion for the 1500m freestyle category with her win. This is her sixth Olympic gold medal.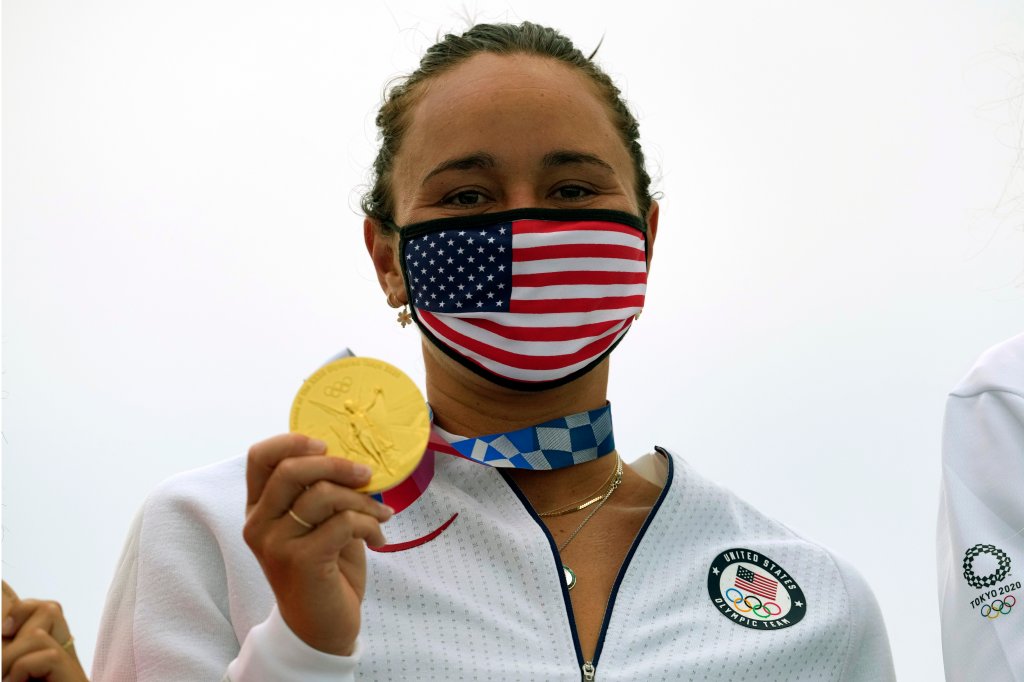 Carissa Moore
– Women's Surfing ShortboardCarissa Moore won the first women's surfing shortboard event in Olympic history, taking down South Africa's Bianca Buitendag, 14.93- 5.463 in the gold medal match.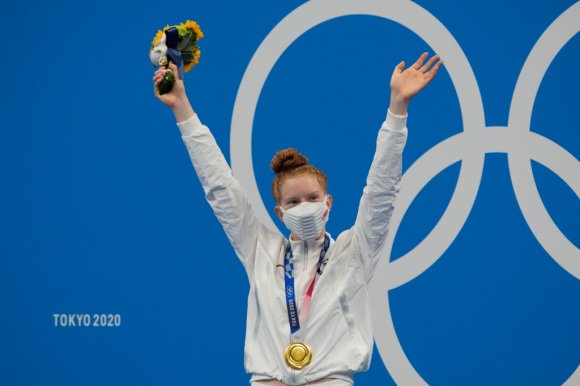 Lydia Jacoby
– 100m Breaststroke The 17-year-old beat out reigning Olympic champion and fellow American Lilly King, who finished third, for the gold medal. Her success spawned viral moments from her hometown at the moment of her victory, as well as
a touching moment with her proud parents
singing the national anthem played in their daughter's honor.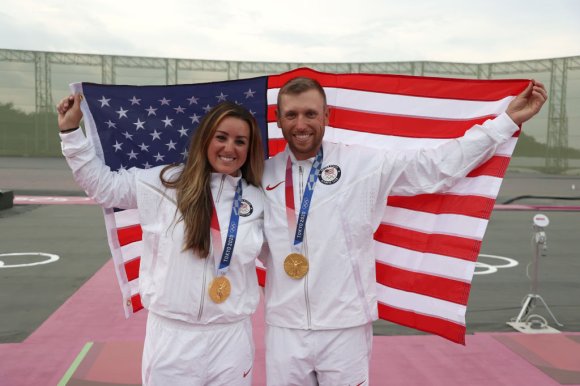 Amber English
and
Vincent Hancock
– Skeet, Women's and Men's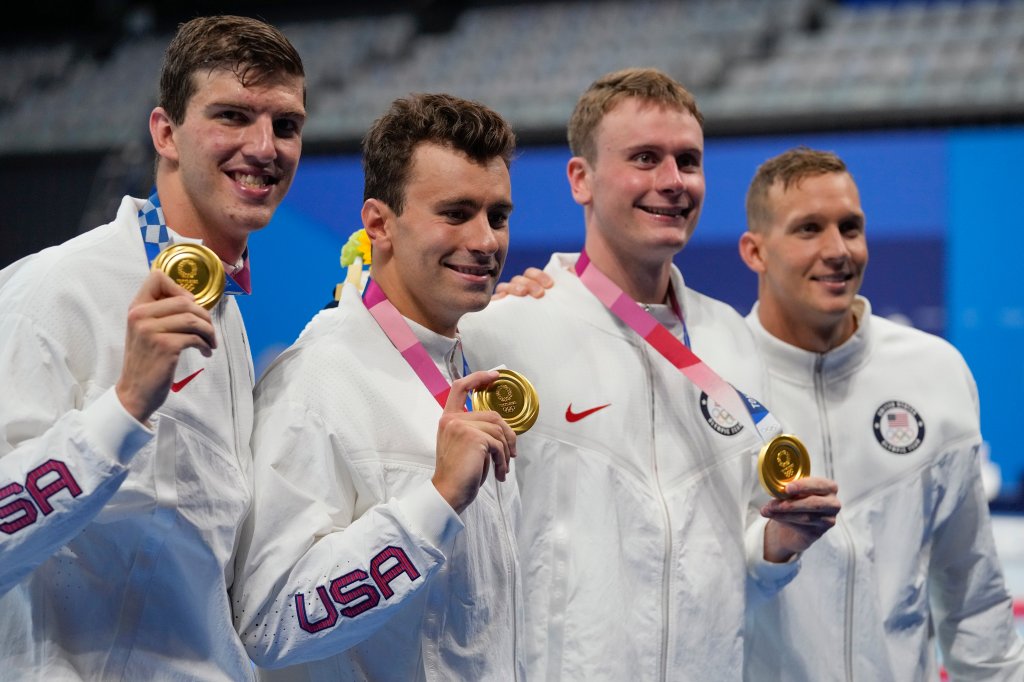 USA Swimming
– Men's 4x100m Freestyle Relay From left: Zach Apple, Blake Pieroni, Bowen Beck and Caeleb Dressel pose after winning the gold medal. Team USA has now won back-to-back golds for the 4x100m freestyle relay, winning the event at the 2016 Rio Olympics.
Anastasija Zolotic
– 57kg TaekwondoZolotic became the first woman from the United States to win an Olympic taekwondo event, and the third American athlete to win a gold medal in taekwondo.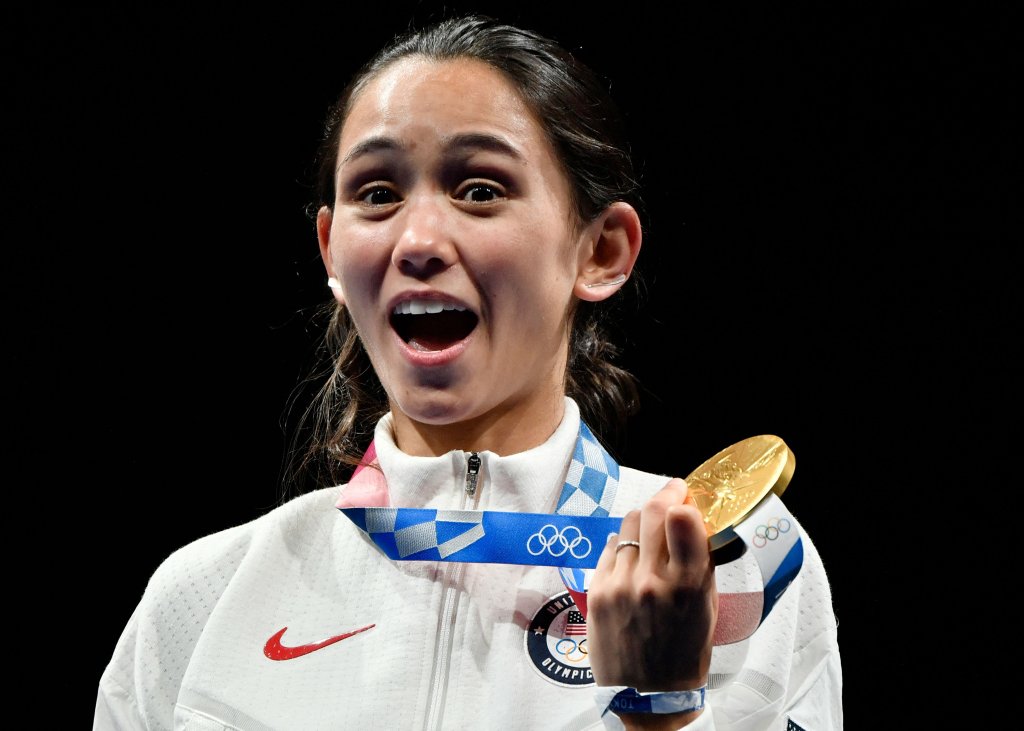 Lee Kiefer
– Women's Individual Foil Kiefer made history as the first athlete from the United States to medal in the individual foil fencing category.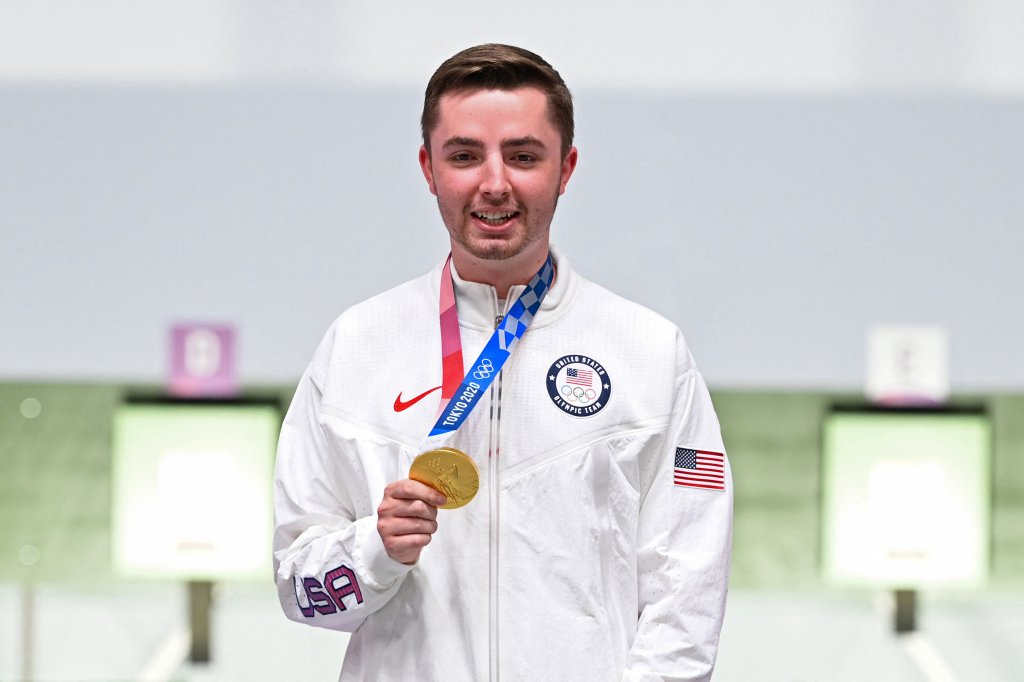 William Shaner
– Men's 10m Air RifleShaner set a new Olympic record during the 10m air rifle event, scoring 251.6 and narrowly defeating Sheng Lihao of China by .07.
Chase Kalisz
– 400m Individual Medley Kalisz broke Team USA's dry spell when he took gold in the 400m individual medley, winning the first medal for the United States in Tokyo.