In Day 9 of competition at the 2020 Tokyo Olympics, Team USA broke its medal tie with China, Caeleb Dressel added more hardware in the last batch of swimming finals, and American golfer Xander Schauffele took home golf gold.
Check back below for live updates of everything happening in Tokyo on Day 9:
Italy's Lamont Marcell Jacobs Wins 100m, Fred Kerley Takes Silver
Italian Lamont Marcell Jacobs was crowned fastest man in the world with a time of 9.80 in the men's 100m race. He hadn't broken 10 seconds in a 100m before 2021.
American Fred Kerley finished in second at 9.84, and Andre de Grasse was third at 9.89. All three medalists finished with new personal bests.
Suni Lee Wins Bronze on Uneven Bars
Suni Lee added yet another medal to her collection Sunday with a bronze in the uneven bars. Belgium's Nina Derwael finished in first with a score of 15.200, while ROC athlete Anastasiia Iliankova finished in second with 14.833 points.
Lee scored 14.500 on her routine. She will have one more chance at a medal in the beam individual event final.
McKayla Skinner Takes Silver in Individual Vault Final
After missing out on qualification earlier in the week, MyKayla Skinner will stand on the podium in the vault final. Skinner stepped in for Simone Biles after she posted the third best vault score in qualification, and she did not disappoint.
Her 14.916 earned her a silver medal in individual vault final. Brazil's Rebeca Andrade won gold, the first gymnastics gold for a Brazilian woman, and South Korea's Yeo Seo-jeong won bronze.
Read on for more storylines from Day 9 in Tokyo:
U.S. Men's Volleyball Eliminated After Falling to Argentina
Team USA fell to Argentina in straight sets on Sunday, finishing Pool B play with a 2-3 record and outside of the men's volleyball quarterfinals. Team USA was up one point on Argentina in the Pool B standings coming into Sunday's win-or-go-home tilt. With the win, Argentina jumped the U.S. in the standings and into the next round.
Torey DeFalco led Team USA with 13 points on the game, while Matt Anderson chipped in 11. Micah Christenson contributed 32 of the team's 35 assists.
The U.S. had medaled at two of the last three Olympics and had not been eliminated in round-robin play since the 2000 Sydney Games, when the team went 0-5.
Qatar's Barshim, Italy's Tamberi Agree to Share High Jump Gold Medal
Qatar's Mutaz Essa Barshim and Italy's Gianmarco Tamberi decided the two would both take home gold in the high jump.
Neither had missed any of their attempts going up to 2.37 meters, but when the pair attempted 2.39, each were unsuccessful in their three attempts. Instead of continuing to see who would finally beat out the other, the two agreed they would both sit at the top of the podium.
It is Barshim's third medal in the high jump. He previously won bronze in 2012 and silver in 2016, so he finally completed his Olympic set with the shared win. For Tamberi, it's his first Olympic medal.
Super Heavyweight Richard Torrez Jr. Advances to Semifinals in Boxing
The United States' Richard Torrez Jr., the No. 3 super heavyweight boxer, continues to be a problem in the ring.
The 22-year-old defeated Cuba's Dainier Pero via a 4-1 decision on Sunday in the quarterfinals. He previously beat Algeria's Chouaib Boulloudinats in an unanimous vote in the Round of 16.
Torrez Jr. is set to square up against No. 2 Kamshybek Kunkabayev of Kazakhstan in the semifinals. That bout is scheduled for Wednesday, Aug. 4 at 2:18 a.m. ET.
Trayvon Bromell Out of 100m Final
Trayvon Bromell failed to qualify for the men's 100m final in heartbreaking fashion.
Bromell finished third to Nigeria's Enoch Adegoke by a thousandth of a second in the second semifinal heat. Both sprinters crossed the finish line in 10.00 seconds but after photo review, Adegoke was given the automatic qualifying spot.
In the next heat, China's Su Bingtian and Ronnie Baker ran a semifinal-best time of 9.83 seconds to knock Bromell out.
USA's Adeline Gray Heads to Finals of Women's 76kg Freestyle Wrestling
There's a reason American Adeline Gray was the top ranked wrestler heading into Olympic play of the women's 76kg freestyle wrestling.
Gray won all three of her matches on Sunday, concluding with a 3-2 win in the semifinals against Kyrgyzstan's Aiperi Medet Kyzy. She previously defeated Tunisia's Zaineb Sghaier in the Round of 16 by a score of 8-0. She followed that with a 6-4 victory over Turkey's Yasemin Adar.
The native of Denver will face No. 2 ranked Aline Rotter Focken of Germany in the finals Monday at 8:15 a.m. ET.
U.S. Men's Foil Fencing Team Takes Bronze Over Japan
After losing to the ROC in the semifinals, the United States men's foil fencing team took bronze in the team event by beating Japan 45-31.
The United States did not lose a single set throughout the match. The trio of Alex Massialas, Gerek Meinhardt and Race Imboden won seven and tied two en route to the bronze medal win.
It is the second consecutive Olympics that the Massialas, Meinhardt and Imboden have taken bronze in the event. It is the first Olympic medal for Nick Itkin.
Gold For Dolgopyat, Whitlock in Men's Individual Gymnastics Finals
Artem Dolgopyat finished first in the men's individual floor excercise final. His 14.933 was enough to wing the second-ever gold medal in Olympic history for Israel. Spain's Rayderley Zapata finished in second, while China's Ruoteng Xiao came in third. American Yul Moldauer finished in sixth with a score of 15.533.
Max Whitlock of Great Britain finished in first in men's pommel horse, but the big story of the pommel horse final was second-place finisher Chih Kai Lee. Lee won the first ever gymnastics medal for Chinese Tapei with a score of 15.400. Japan's Kazuma Kaya rounded out the podium in third, and American Alec Yoder finished in sixth in the event with a score of 14.566.
Zverev Wins Olympic Gold in Straight Sets
After knocking off world No. 1 Novak Djokovic, German Alexander Zverev cruised to victory over ROC's Karen Khachanov for the gold medal.
He won the match, 6-3, 6-1, and moves to 3-2 in career matches played against Khachanov. He is the first German man to win a gold medal in tennis at the Olympics.
USA's Xander Schauffele Holds On to Win Gold in Men's Golf
The United States' Xander Schauffele entered the final round of the men's golf tournament with a one-stroke lead on Japan's Hideki Matsuyama. And while a few golfers made it close, it was Schauffele that walked away remaining in the lead, this time with gold around his neck.
The 27-year-old from California shot 4-under par in the final round, finishing the tournament 18-under. It was just enough to hold off Slovakia's Rory Sabbatini for the gold. A birdie on 17 broke a tie with Sabbatini and Schauffele parred on 18 to seal the victory.
While Schauffele was in the spotlight at the end of the tournament, the story of the round was Sabbatini. The Slovakian came into the final round 7-under in a tie for 17th. But Sabbatini found his best game in Round 4, shooting an Olympic record 10-under par, pushing his total score to 17-under. He was sensational with 10 birdies and an eagle in the final 18 holes. His 10-under par was the best score recorded out of any round in the tournament and enough to secure him a silver medal.
Japan's Hideki Matsuyama missed a putt on the 18th hole that would have broken him away from a seven-way tie for third. Instead, now seven players, including United States' Collin Morikawa, will participate in a playoff to determine the bronze medal winner after all ended the tournament 15-under.
Collin Morikawa Falls in Playoff for Bronze Medal in Men's Golf
Collin Morikawa was one of just two players remaining in a seven-player playoff for the bronze medal in men's golf, but was bested by Chinese Taipei's C.T. Pan for the third-place finish.
Morikawa put a ball into the bunker on the fourth hole of the playoff, which proved fatal as Pan parred the hole while Morikawa missed a long putt for par.
In addition to Morikawa and Pan, Paul Casey, Hideki Matsuyama, Mito Pereira, Sebastian Munoz and Rory McIlroy fought for the bronze.
Matsuyama missed a putt on the 18th hole that would have broken him away from a seven-way tie for third. Instead the seven players participated in a playoff to determine the bronze medal winner after they all ended the tournament 15-under.
Krysta Palmer Takes Bronze for U.S. in Women's 3m Springboard
American Krysta Palmer won bronze in the women's 3m springboard in Tokyo Sunday morning.
The 29-year-old scored 343.75 points on four dive attempts, taking the lead heading into the final round. Palmer landed a 73.10 dive to stay clear of Malaysia's Sabri Nur Dhabitah and clinch a podium spot in her first Olympic Games.
Palmer, who won the 3m springboard at the U.S Olympic trials, didn't start diving until she was 20. She competed in gymnastics for several years and trampoline before starting her diving career. After competing in diving for just 10 years, Palmer has reached the pinnacle of the sport as an Olympic medalist.
China had the top two finishers, with Shi Tingmao winning gold with a score of 383.50 and Wang Han taking silver with a 348.75.
Barbora Krejcikova and Katerina Siniakova Take Gold in Women's Tennis Doubles
Top-seeded Barbora Krejcikova and Katerina Siniakova of the Czech Republic lived up to their billing and won gold in women's tennis doubles.
Krejcikova and Siniakova defeated Switzerland's Belinda Bencic and Viktorija Golubic 7-5, 6-1 in the gold medal match. Bencic, who won gold in women's singles on Saturday, was denied a golden sweep.
In the bronze medal match on Saturday, Brazil's Laura Pigossi and Luisa Stefani defeated the Russian Olympic Committee's Veronika Kudermetova and Elena Vesnina 4-6, 6-4, 11-9.
Two Silver Medal Winners Reportedly Banished From Tokyo Games for Breaking COVID Rules
Two Judo silver medalists from the country of Georgia reportedly have been banished from the Tokyo Olympics for what Toshiro Muto, the Games chief executive, called a "clear and serious" violation of health and safety rules.
Vazha Margvelashvili and Lasha Shavdatuashvili were spotted sightseeing at Tokyo Tower on Tuesday after their events were finished, leading to their banishment, according to the Associated Press.
Also banished were four accredited contractors from Britain and the U.S. who were arrested for allegedly using cocaine prior to the Olympics, per AP.
U.S. Men's Foil Team Loses Nail-biter to ROC in Semifinals
The U.S. men's foil fencing team lost a back-and-forth affair to the ROC in the semifinals in the men's team foil event.
Despite the U.S. holding a one-point lead heading into the final set, the ROC's Kirill Bordachev bested Alexander Massialas 6-1 to take a 45-41 victory.
Anton Bordachev, the twin brother of Kirill, was nearly unstoppable for the ROC. He took all three of his sets, winning with scores of 5-1, 7-2 and 7-5, accounting for nearly half of the ROC's total points.
For the Americans, Gerek Meinhardt had 19 of their 41 points, winning two of his three sets. Race Imboden had 13 points and Massialas had nine.
While the ROC faces France in the gold medal match, the U.S. will go for bronze against Japan later this morning.
Phil Dalhausser and Nick Lucena Eliminated by Qatar
American beach volleyball pair Phil Dalhausser and Nick Lucena lost to Qatar's Ahmed Tijan and Cherif Younousse in the Round of 16.
Team USA won the first set 21-14 before losing the second 21-19. In the third, the U.S. men's duo's Olympic run came to an end with a 15-11 loss.
Simone Biles Withdraws From Floor Event Final
American gymnastics star Simone Biles has decided to withdraw from the event final for floor as she deals with the "twisties."
Biles will make a decision about whether or not to compete on beam later this week.
Emma McKeon of Australia Wins 6th and 7th Medals, Ties Record
McKeon won the gold medal in the women's 50m freestyle final. She also won gold in the medley relay to finish her Games with seven medals, which ties her for the most medals at a single Olympics by a woman.
Maria Gorokhovskaya, a Soviet gymnast, also had seven medals back in 1952 at the Helsinki Games.
Team USA Wins 10th Straight Men's 4x100 Medley Relay Gold Medal
The United States took home the country's 10th consecutive gold medal in the men's 4x100 medley relay final on Saturday.
Ryan Murphy (backstroke), Michael Andrew (breaststroke), Caeleb Dressel (butterfly) and Zach Apple (freestyle) made up Team USA's quartet that set the new world record.
Great Britain finished with the silver medal and Italy took bronze. This marks Dressel's fifth gold at the Tokyo Olympics.
Raven Saunders Earns Silver in Women's Shot Put Final
Team USA shot put star Raven Saunders won the silver medal in the final on Saturday with a throw of 19.79 meters.
After finishing fifth at the Rio Games, Saunders entered this event a favorite to win gold.
China's Gong Lijiao won the gold medal with a throw of 20.58 meters, and New Zealand's Valerie Adams took bronze with a throw of 19.62 meters.
United States Wins Silver Medal in Women's 4x100 Medley Relay
Team USA won the silver medal in the women's 4x100 medley relay final on Saturday.
The United States' team was made up of Regan Smith (backstroke), Lydia Jacoby (breaststroke), Torri Huske (butterfly) and Abbey Weitzeil (freestyle).
Australia won the gold medal by .13 seconds, and Canada earned the bronze.
Hannah Roberts Wins First-Ever BMX Freestyle Park Olympic Silver Medal
Team USA's Hannah Roberts won the silver medal in the first-ever Olympic BMX freestyle park final with a score of 96.10.
Roberts, the reigning world champion, was a heavy favorite for gold.
Great Britain's Charlotte Worthington wowed with a score of 97.50 in her second run to take the top spot. Switzerland's Nikita Ducarroz won the bronze.
Bobby Finke Wins Gold Medal in the Men's 1500m Freestyle Final
American swimmer Bobby Finke won the gold medal in the men's 1500m freestyle.
Finke turned on the jets in the last 50 meters to earn his second gold of the Tokyo Games.
Ukraine's Mykhailo Romanchuk won the silver medal and Germany's Florian Wellbrock took bronze.
Caeleb Dressel Wins Gold in the Men's 50m Freestyle Final
Two-time reigning world champion Caeleb Dressel set a new Olympic record to win the gold medal in the men's 50m freestyle final on Saturday night.
Dressel's Tokyo medal count is now at four -- all gold.
France's Florent Manaudou came in second place for the silver while Brazil's Bruno Fratus took home the bronze.
Team USA Advances to Women's 3000m Steeplechase Final
Team USA's Emma Coburn, Courtney Frerichs and Valerie Constien advanced to the finals in women's 3000m steeplechase.
Coburn, who won bronze at the 2016 Rio Games, was the first from Team USA to qualify for the finals finishing third with a time of 9:16.91 in Heat 1.
Frerichs will also advance after posting a qualifying time in Heat 2 of 9:19.34, where she finished in first place.
Constien was among the top 5 women who qualified in Heat 3, posting a time of 9:24.31.
The final will take place on Wednesday at 7 a.m. ET.
USA Swimming Posts Lineups for 4x100 Medley Relays
For the women's 4x100 medley relay, the U.S. will have Regan Smith (backstroke), Lydia Jacoby (breaststroke), Torri Huske (butterfly) and Abbey Weitzeil (freestyle).
For the men's relay, the team is going with Ryan Murphy (backstroke), Michael Andrew (breaststroke), Caeleb Dressel (butterfly) and Zach Apple (freestyle). Andrew, Dressel and Weitzeil are also swimming the 50m free finals tonight.
Kelly Claes and Sarah Sponcil Eliminated from Tokyo Olympics
American beach volleyball pair Kelly Claes and Sarah Sponcil lost to Canada's Heather Bansley and Brandie Wilkerson in the Round of 16 on Saturday.
Team USA took the first set 24-22 before dropping the second 21-18 and the third 15-13.
The American duo's first loss in Tokyo eliminates them from the Olympic competition.
United States Enters Day 9 Tied For Medal Lead
Team USA has 46 medals after eight days of competition in Tokyo, tied with China for the most.
The American athletes have earned 16 gold medals, 17 silver and 13 bronze at the Tokyo Olympics.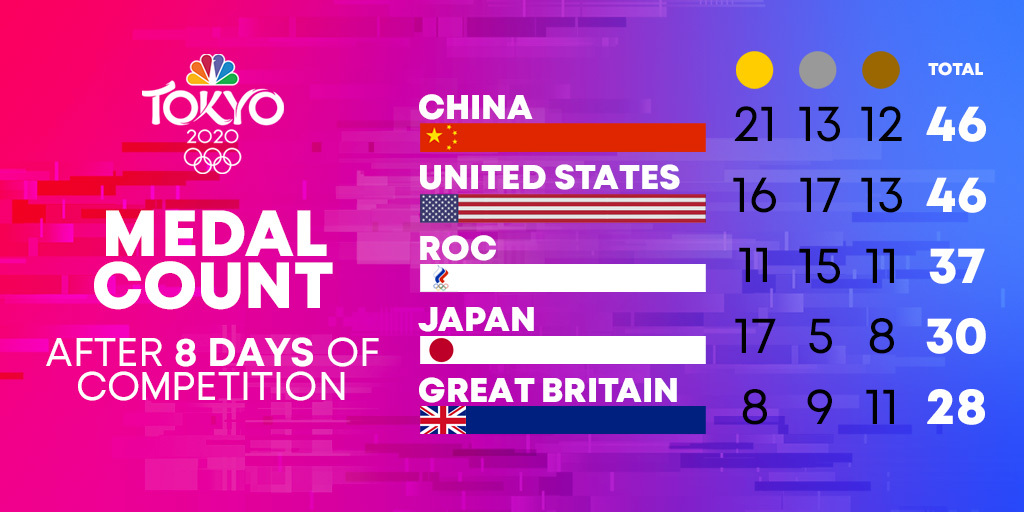 Behind them is the Russian Olympic Committee with 37 medals, Japan with 30 and Great Britain with 28.
Xander Schauffele Leads as Final Round of Men's Golf Competition Starts
American golfer Xander Schauffele is clinging to a one-stroke lead as the men's Olympic gold competition enters its last round.
Just behind Schauffele is Masters champion Hideki Matsuyama of host country Japan. England's Paul Casey and Mexico's Carlos Ortiz sit two strokes back entering the final round.
The first group of Round 4 will tee off at 6:30 p.m. ET on Saturday, while the final group of Schauffele, Matsuyama and Casey is set for a 10:09 p.m. ET tee time.
Caeleb Dressel Highlights Last Day of Swimming Finals
The last batch of Olympic swimming finals is here, and American star Caeleb Dressel could add even more hardware.
Dressel, who has won three gold medals in Tokyo, will look to add two more.
Dressel is the two-time reigning world champion in men's 50m freestyle, and is also expected to be a part of the men's 4x100m medley relay team. Team USA hopes to win its 10th straight gold medal in the event.
Another must-watch is the women's 4x100m medley relay, in which the U.S. women are expected to contend for gold.
This story uses functionality that may not work in our app. Click here to open the story in your web browser.