Thursday's Rivalry Week selection provides an interesting sampling of big time showdowns and compelling mid-major match-ups. Arizona-Colorado has some good story lines and Gonzaga-Saint Mary's writes itself. But Davidson-Charleston is the premier game on the SoCon schedule. The same goes for The Summit League's Western Illinois-North Dakota State tilt and the Big Sky's Montana-Weber State battle.
Thursday should be fun.
Let's hit the links.
Thursday's Top games:
7:00 p.m. - Northwestern @ No. 13 Ohio State
7:00 p.m. - No. 20 Wisconsin @ Minnesota
7:00 p.m. - Belmont @ Tennessee State
7:30 p.m. - Davidson @ Charleston
7:30 p.m. - Canisius @ Loyola (Md.)
8:00 p.m. - Western Illinois @ North Dakota State
8:05 p.m. - Arkansas-Little Rock @ Arkansas State
8:15 p.m. - Northwestern State @ Southeast Louisiana
9:00 p.m. - St. John's @ No. 12 Louisville
9:00 p.m. - UCLA @ California
9:00 p.m. - UMass @ VCU
9:05 p.m. - Denver @ Utah State
9:05 p.m. - Montana @ Weber State
10:00 p.m. -No. 9 Arizona @ Colorado
11:00 p.m. - No. 5 Gonzaga @ Saint Mary's
11:00 p.m. - USC @ Stanford
Read of the Day:
This is the most succinct, poignant and accurate take I've read regarding Nerlens Noel's ACL injury and the one-and-done rule. Deadspin of course. Read it. (Deadspin)
Read of the Day:
Top Stories:
North Carolina loses to Duke, but it's not all bad news for the Tar Heels: The Tar Heels finished on the wrong side of the ledger last night, and while Chapel Hill residents probably don't like the idea of a "moral victory", not all was lost at Cameron Indoor Stadium.
Should Syracuse be concerned after loss to UConn? James Southerland scored 14 points in his second game back from an academic suspension, but the rest of the Orange struggled on the road and lost to UConn 66-58. What does this mean for 'Cuse?
Ole Miss sees tourney profile take a hit with loss at Texas A&M: Ole Miss, once the hottest team in America, is starting to flame out. Marshall Henderson and the Rebels couldn't afford to lose to Texas A&M last night. But they did, and now their already-thin resume is aided by a mediocre 7-4 record in the SEC.
Creighton loses 3rd straight, tough Missouri Valley could hurt chances of multiple NCAA tournament bids: The Bluejays fell on the road at Northern Iowa, their third loss in a row. But that's just kinda how things go in the Valley.
CBT Podcast: Breaking down the NCAA Tournament Bubble: Troy Machir (That would be I) is joined by Sports Illustrated's Andy Glockner, master of "The Bubble Watch" and loyal Fulham FC supporter. We talk about bubble teams. Luckily no soccer is discussed. Best 30 minutes in college hoops.
Tennessee self-reports three violations committed by men's basketball program: The Tennessee basketball program accounted for three of the ten self-reported violations within the Volunteers athletic department. The violations aren't that major, but good on Tennessee I guess. I'm not actually sure if what they did wrong was actually that wrong.
UMass Lowell will reportedly join Division I, become member of America East: The River Hawks will reportedly join Division I in all sports beginning in the fall of 2013-2014. The current Division-II program will join the America East, which will lose Boston to the Patriot League at year's end.
Monroe College's Stephane Manga throws down a Dunk of the Year nominee (VIDEO): There's not much to say here. Just watch the video to see somebody take off from the foul line and posterize some poor bloke.
St. Louis' No. 1 fan will not be bribed by Butler: A pretty neat story that everybody will enjoy. Just trust me on this one.
Hoops Housekeeping:
Observations & Insight:
- Well this is interesting: The NCAA was sued by a nonprofit group on Wednesday over a new policy that bars felons from coaching NCAA-sanctioned events.
- Saint Mary's hosts Gonzaga tonight in must-see action. It's the best rivalry on the west coast, and if Gaels want to defend their WCC title, they will have to beat the No. 5 Bulldogs. (San Jose Mercury-News)
- New NCAA Division I basketball Committee Chairman Mike Bobinski is content with keeping the current field to 68 teams. (USA Today)
- Former-UConn head coach Jim Calhoun doesn't think that the Huskies will be in the Big East in a year from now. (New Haven Register)
- The La Salle Explorers got a tough hard-fought victory against a scrappy St. Bonaventure team. The Explorers will be an intriguing team to watch down the stretch. They are 7-3 in the Atlantic-10 and hold wins over Butler, VCU, Villanova, and Delaware. (Philahoops.com)
- The Pac-12 is slowly improving as a whole, and their television deal will help to create a better national profile. (ESPN)
- Jeff Eisenberg makes a tremendous opening statement regarding the moxie of this season's UConn team compared to the one in 2011-2012. (The Dagger)
- With Myck Kanbongo back in the spotlight, Texas' Sheldon McLelland was able to shine in his natural position and lead the Longhorns to a thrill 89-86 double-overtime victory over Iowa State. (Dallas Star-Telegram)
- Gary Parrish tells an awesome story about why Miami head coach Jim Larranaga values the use of advanced statistics as a teaching aid. (Eye on College Basketball)
- Jarvis Threatt hit a 3-pointer with 12 seconds remaining to propel Delaware past CAA-leading Northeastern. The Blue Hens are above .500 for the first time this season and are in second place in the league. (City of Basketball Love)
- A blind resume test suggest that a better record against top-50 and top-100 teams might outweigh a strong RPI (USA Today)
- Texas A&M's Elston Turner went off for 37 last night against Ole Miss, out-gunning Marshall Henderson. If you may remember correctly, Turner dropped 40 on Kentucky at Rupp Arena. (Clarion Ledger)
- Arizona State could not afford a loss to Utah last night if they wanted to remain in the good graces of the NCAA Selection Committee. Naturally, they lost. (House of Sparky)
Odds & Ends:
- The student managers at Duke played the student managers from North Carolina on Tuesday, and in typical fashion, finished with a buzzer-beater. (The Dagger)
- Indiana was rumored to be one of the teams getting special Adidas uniforms for the end of the season. But Indiana AD Mike Glass says that alternate uniforms are highly unlikely. (Inside The Hall)
- The Tobacco Road Rivalry picked up before the game even tipped off last night. Some how, some way, the head of the Duke Blue Devil mascot was found displayed outside the Student Store in Chapel Hill. This is how you do a rivalry. (Tar Heel Blog)
- For one reason or another, Syracuse head coach Jim Boeheim called ESPN Reporter Andy Katz "an idiot, and a really disloyal person" following their 66-58 loss at UConn. (Troy Nunes)
Photo of the Day:
This is just awesome. A cheer-sheet for the Cameron Crazies battle against North Carolina last night. The scouting report for Bryce Johnson is hilarious. (via Mark Armstrong, ABC TV Durham)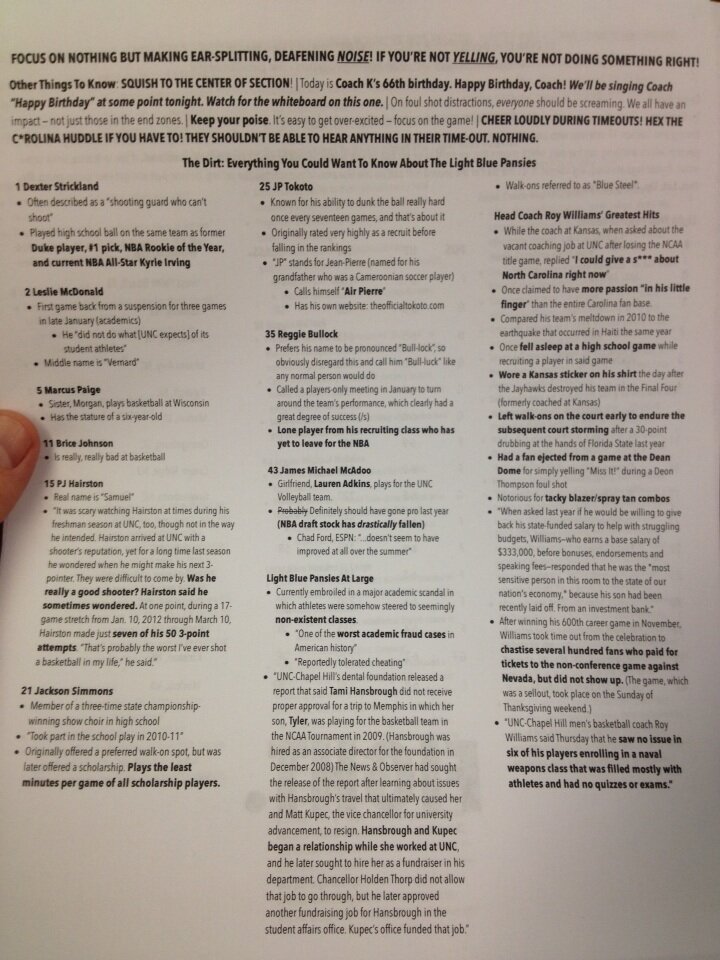 Video of the Day:
I'm not a big fan of the "Harlem Shake" movement, but I do applaud what Georgia did. I've seen a lot of bad videos. This ain't one of them.
Dunk of the Day:
To be fair, this is more of a switch-180, but nonetheless, Keion Bell is able to do this effortlessly.
Dunk of the Day:
The degree of difficulty on this dunk by James Michael McAdoo is off-the-charts high.
Do you like the new Morning Mix? Hate it? Have a suggestion or want something featured? Troy Machir will take all your praise, insults and inquiries via Twitter (@TroyMachir)